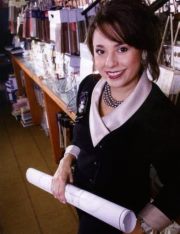 Athena D. Vigil
Interiors Remembered
President / CEO / Design Director / Allied ASID / IFDA
Success is not handed out freely on a silver platter, and few people know that better than Athena Vigil. For the last two decades, she has worked hard to establish a thriving business and an illustrious design career. As one of the top interior designers in the Phoenix-Scottsdale area, with a client base built solely upon referrals, Athena's expertise has transformed spaces large and small across the United States and as far as Los Cabos, Mexico.
Since 1991, Athena has had a talented staff of knowledgeable professionals, with memberships in both the American Society of Interior Designers (ASID) and the International Furnishings and Design Association (IFDA), and an extraordinary interior design portfolio under her belt. Her talents have been sought by athletes and corporate powerhouses, showcased by Martha Stewart Living, and utilized for projects both basic and intricate. Recently, she completely designed a top-tier, 60,000 square-foot office space for a well-known Phoenix law firm – but equally important to Athena are the simpler jobs. She devotes the same dedication, warmth and professionalism to a client seeking a complete residential design or a first-time home-buyer interested in carpet and paint. Whether basic or elaborate, no matter the scope, each project receives the expert attention upon which Athena's sterling reputation is built. Athena is one of the top interior designers in Arizona, serving clients throughout the United States and beyond.
"Your space has a direct impact on your quality of life. It affects the way you think, the way you function, the way you feel."

-Athena Vigil, Design Director
For Athena, who sees every project as a labor of love, business and pleasure are one and the same. Her work allows her to care for people in a very special way. "Your space has a direct impact on your quality of life," she says. "It affects the way you think, the way you function, the way you feel." She deeply enjoys bringing balance, order, and harmony into her clients' personal spaces – and seeing the profoundly positive effects such transformations bring.
Whether spending quality family time with her husband and three young children, traveling, or helping to improve the peace and wellbeing of those she works with, Athena is continually inspired by the beauty around her and feels blessed to have a career she's passionate about. It brings a joy too big to keep to herself, which is why she is a generous year-round donor to community charities; Maggie's Place, which assists women from abusive situations, is just one of the beneficiaries of Athena's "pay-it- forward" philosophy.
Is it the keen sense of style, as intuitive as breath; the painstaking attention to each flawless detail; the unparalleled customer service or genuine compassion? Each client has something different to say about the energy and spirit with which Interiors Remembered, Inc. approaches each project – but whatever the reason, Athena's firm continues to build its legacy.