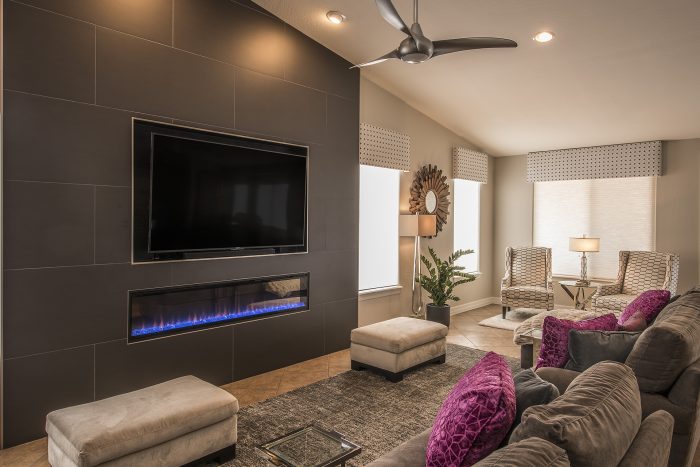 A New You in the New Year with Bold Interior Design Trends
A new year is a great time to update your home and dig into some new interior design projects. Maybe 2020 is the year for you to go bold with dark colors and fun patterns. If you are ready to take the plunge, here are some bold trends to add to your home's interior design in the new year.
Dark Colors
Don't be afraid to go bold with dark colors! From dark blues to dark greens, they can really add a dramatic look to your kitchen, bathroom or even living room. Painting the walls in these rooms dark colors give them character and look gorgeous with dark cabinets and countertops.
It is a big commitment, so make sure you are choosing a color that you are going to like. If you are afraid to make the entire transformation, start small with painting just one accent wall a dark color.

Mix of Patterns
Another bold interior design trend that will display your personality is patterns! There are a few different ways you can add patterns in your interior design. Your living room is a great place to experiment with.
Furniture like a chair, fabric on bar stools, pillows or rugs all come in a variety of patterns and go well with dark walls. You can go with cheetah rugs or striped pillows. To really stand out, you can add a patterned chair or even a patterned couch. Just always try to find a balance and don't overdo the patterns.
Stylish Light Fixtures
Make a statement throughout your home with stylish light fixtures. There are many styles to choose from and can easily transform your kitchen, hallways or bathrooms.
You can start small with a sparkling chandelier in your entry. For a bolder look, go with rustic lighting in the kitchen or more fancy fixtures in the bathroom. An iconic look to add to your home is industrial lighting. This is a great addition to a kitchen that is going for that farmhouse look. 
Working with an Interior Design Firm
If you are wanting to update your interior design with bold trends, working with the right interior design firm to discuss your ideas. The team at interiors Remembered can help you get the look you want and let you in on all the latest interior design trends. Just give us a call at (877) 651-8315 or conveniently schedule a consultation through our website. We'd be glad to help and look forward to hearing from you!