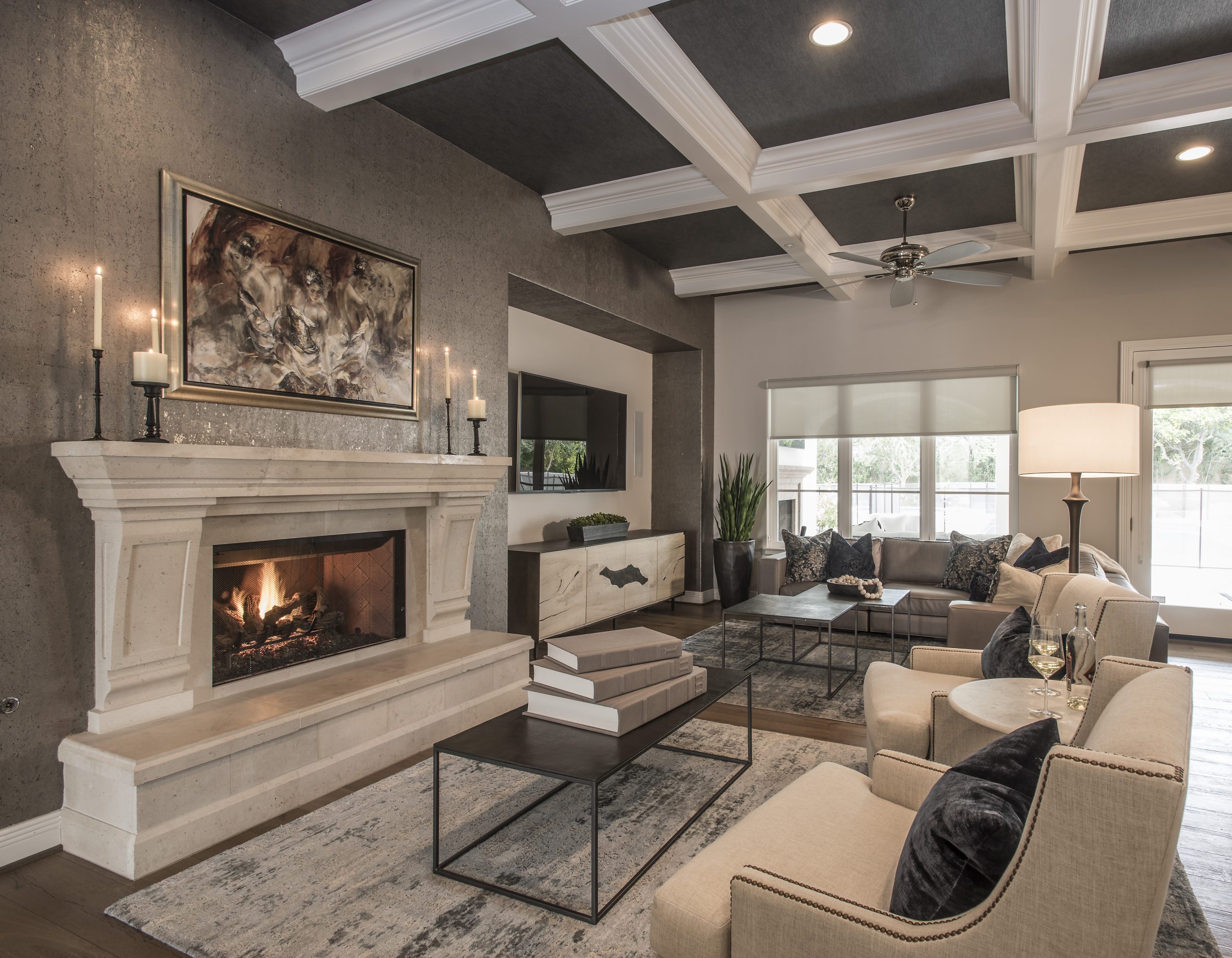 Gas Fireplaces vs Electric Fireplaces
Fireplaces are a key component of a warm, inviting and luxurious living space. By nature, the fire brings us warmth, comfort and security. It's a natural draw to everyone around it. And, let's not forget about the romantic element. Whether your entertaining a crowd, or enjoying a private evening with that special someone, a stunning fireplace is sure to set the mood appropriately.
Fireplaces and hearths are most commonly found in the living room areas of the home. As this is a premier space for your guests and visitors to see, it's often at or very near the top of our interior design clients' wish lists. And when it comes to fireplaces, you have many factors to consider before finalizing your choice.
Types of Fireplaces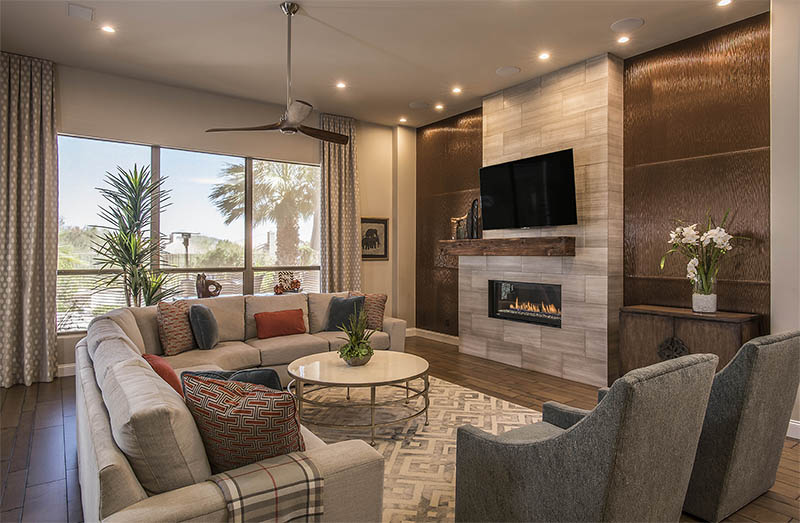 The most common fireplace in the home is a wood burning fireplace with a stone or brick hearth construction. The hearth protects the surrounding areas of the home from heat exposure, and of course, requires a chimney for proper ventilation. These are the classics, and can often be modernized with a stone veneer that complements the other design elements of your space.
Gas fireplaces don't require a hearth, but do require some basic insulation as they fit inside the wall. Gas fireplaces don't contain the natural cracking sounds and aromas that traditional fireplaces do, yet they still maintain the mesmerizing visuals of a fire and provide warmth to your home. They also are very easy to use, maintain, and often are the least expensive to use.
If gas isn't an option for your home, electric fireplaces are another great option. While they won't heat as quickly gas, these fireplaces are just as convenient to use and generally cost less to install and use.
Real Flames or Artificial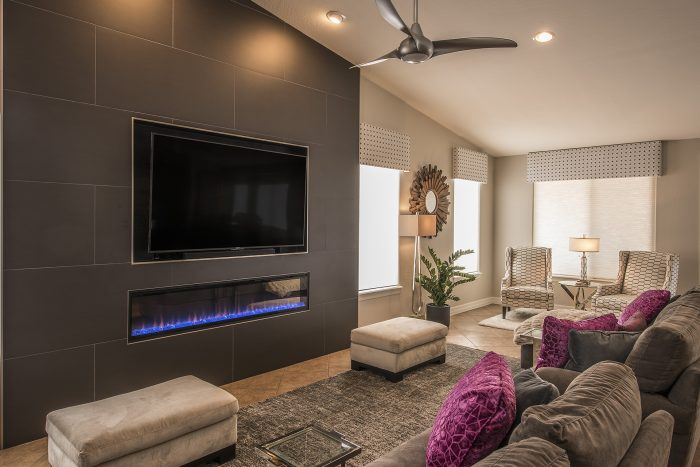 Let's not fool ourselves. The visual experience of a wood burning fire, gas fire, and electric fireplace are different. And it's important that your love the way the fire looks before finalizing your choice. If you don't have a traditional fireplace, and you're looking for the most visually authentic fire, we recommend gas fireplaces.
Easiest Fireplace to Use
We also live busy lives, and traditional wood fireplaces are no match compare to the convenience of gas and electric fireplaces. With these options, there's no wood, debris, ash or smoke aroma to deal with. And that's the biggest draw for many, especially those who live in more modern spaces, or in warmer climates where the fireplace is truly a luxury and not a necessity.
Cost of a New Fireplace
The cost of your new fireplace has several considerations as well. If you have an existing wood burning fireplace, you can modernize it with stone veneer which can rival the cost of installing gas or electric fireplaces.
For Gas fireplaces, you'll need to consider the cost of the fireplace unit, the installation, and the cost of use. As with any installations involving gas line fittings, we recommend a licensed contractor to perform the installation. Safety is always the number one priority so this is a must. The cost of purchasing a gas fireplace is usually more than an electric fireplace, anywhere from 25% to 50% more as a general rule of thumb. The cost of using your gas fireplace is usually more as well, unless you're in an area where gas is less expensive than utility-provided electricity.
With an electric fireplace, you'll still need an installation that properly insulates the surrounding areas (walls/internals) that are adjacent to the fireplace. But you won't need a gas line fitted installation. You may already have electric connections behind the wall that can be used to power the fireplace. If not, you may need to have a licensed electrician run a power line to that area so you can complete the electrical component of the installation.
Electric fireplaces are the least expensive of the fireplace options, but do come with more design options. And they are commonly less expensive to use than either gas or wood burning fireplaces.
How to Choose Between Electric and Gas Fireplaces
Ensure you have the proper energy infrastructure (gas or electrical) to support your choice, always make sure you love the way the fire looks, ensure it produces sufficient heat for your needs, and then choose based on your budget not only in the short term, but long term (a.k.a. your ongoing cost use).
Pros and Cons of Electric and Gas Fireplaces
Contact a Fireplace Expert Today
Looking to enhance your living space with a stunning new fireplace? Contact the interior design pros at Interiors Remembered or call (480) 921-4224 to talk about fireplaces today!