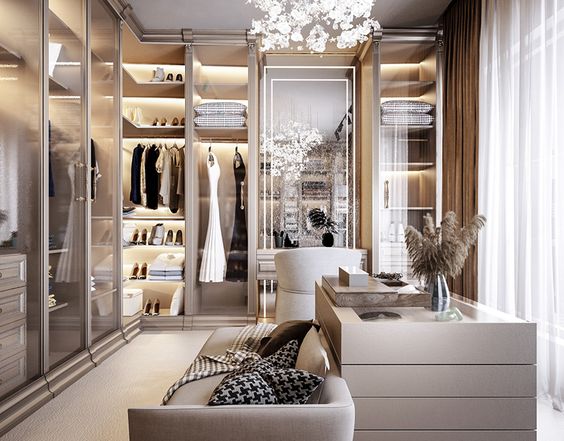 Organize in Style with Luxury Closets
Who doesn't love extra storage? And what's better than organized storage that looks good.
How can this be done? With luxurious closets!
Using luxury closets as storage is a great addition to any interior design plan while also serving a purpose.
Designing the Ultimate Closet
The goal is to design a high-end closet that is luxurious and customizable. There are many options, especially when it comes to the size of the closet you are looking for.
The closet can either be a walk-in or just a nice closet full of handy shelves. The options really are endless and a closet can be used in any room! The beauty is that they come in any size, including those glamorous walk-in closets.
Start by visualizing the purpose of the closet, then create a proper layout. Is it a walk-in closet for clothes? Or are you needing a shelf for shoes? Be creative when designing your closet and always do what works best for you and your needs.
Quality Does Matter
The quality of the materials used for your closet is of course important, just like with anything that relates to interior design.
These luxurious closets should be sturdy and have a nice paint finish. Keep in mind that if you are going to put in the work to design a closet, do it right.
For example, if you are going to do shelves for shoes in your closet, think about indulging and adding in leather-lined shelves. Or perhaps special hangers for those stylish handbags and boots.
Luxury Walk-In Closet Tips
The most important use of a luxury closet is a walk-in closet to hold all of your clothes, shoes, and accessories.
In fact, make the spacious closet your very own dressing room!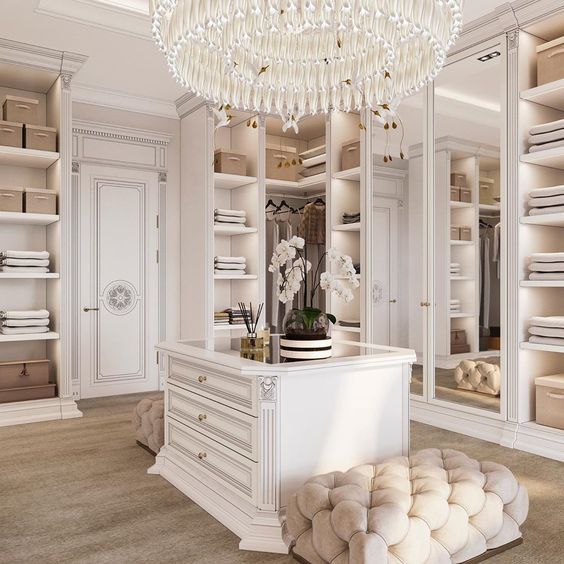 Make a statement with your closet by adding dramatic lighting or add some extra glam with a sparkling chandelier. If there is room, we recommend adding in at least one mirror, including a full-body mirror.
Creating space for a small counter or an island to store your jewelry and have a place to get ready is going to be a bonus addition that is worth considering. It is also a good idea to add drawers, a mirror, and the perfect lighting to the counter as well.
Extra Tip
Pay attention to ALL of the details of your closet. From the hangers to the doorknobs and drawer knobs, matching these details will add extra flair to your closet.
Have some interior design ideas on your mind like a luxury closet?
Have you been considering a luxury closet for your home? Or do you need a new look for your guest bedroom? Just give us a call at (877) 651-8315 or conveniently schedule a consultation through our website. We'd be glad to help and look forward to hearing from you!