The Beauty Of Engineered Wood Flooring
As a company that specializes in installing exceptional wood floorings, we know engineered wood flooring can make a world of difference in your home. If you are looking to upgrade to wood flooring, solid wood isn't your only option. Engineered wood flooring is a high-quality alternative to get the job done.
What Is Engineered Wood Flooring?
Engineered wood flooring uses layers of boards instead of solid wood. The top layer is made of either walnut, oak, maple, cherry, or hickory. Underneath the top layer sits 3 to 11 layers of plywood or wood to provide a stable core. This way, the flooring is durable so the humidity and temperature won't cause it to expand or contract.
This type of flooring is great for any space, especially in spots where solid wood flooring won't work, like over concrete.
Engineered Wood Flooring Options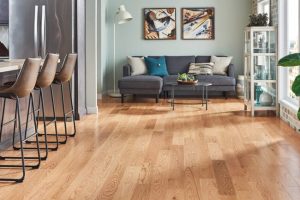 With engineered wood flooring, not only do you have the choice of the type of wood you want like walnut, oak, or cherry, but also the width.
Typical engineered wood flooring consists of 2 ¼" to 3" boards. But you can use wider planks ranging from 8" to 20". This leaves your home with a more distinctive and striking look.
The best way to choose the right engineered flooring is to look at samples. These samples can be your best friend so that you are picking the floor option you want. Use these samples to compare the richness of the color, the grain, and the thickness of the boards and layers.
When you have decided and are ordering your flooring, make sure to always verify the specifications such as the color and measurements.
What Are The Pros Of Engineered Wood Flooring?
The top reasons to add engineered wood flooring to your home include:
It looks beautiful!
It is a high-quality floor option that is stable
It is easy to maintain so it will last
Engineered Wood Flooring Contractors
If you're considering upgrading your outdated flooring with new engineered wood flooring, our interior design firm has access to the top wood flooring contractors. As specialists in the engineered wood flooring, we recommend only the finest contractors whom use the best brands like Shaw and Acacia.
Your Engineered Wood Flooring Company
To get started with new engineered wood flooring in your home, contact us today so we can help you get things started! Just give us a call at (877) 651-8315 or conveniently schedule a consultation through our website. Contact the engineered wood flooring specialists at Interiors Remembered today for an exceptional flooring experience.