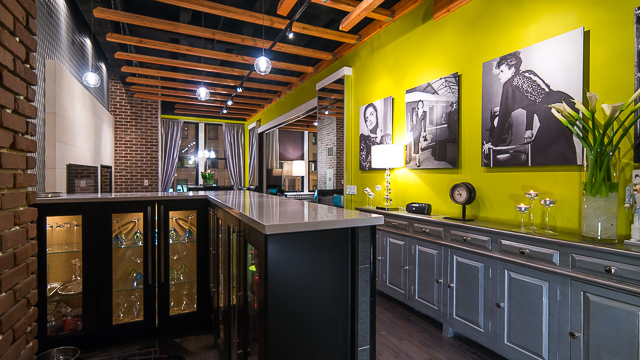 How Fashion Influences Interior Design Trends
The style of our home is often reflected in what we wear. What we see on the runway and the latest fashion trends do intertwine with the latest interior design trends and some of these trends make a lasting impression. So, how and when is interior design and décor influenced by fashion trends?
Some Trends Never Go Out of Style
Trends can come and go, but there are some fashion trends that have influenced the interior design world, never leaving, and making interior design history. Historical trends such as Chanel's elegant black and white patterns are commonly used in interior design season after season.
Even though some trends never go out of style, new trends will continue to always hit the runway and pop up. This is especially true of colors and patterns. Fashion can be used as a tool for self-expression and human connection to come together. Using these fashion trends in your interior design can be a way to show your personal style in a creative way.
Cozy Aesthetics with Fabrics
When we think of cozy fashion, we think of loungewear like sweatpants and hoodies. Cozy interior design is more along the lines of shaggy rugs, fluffy pillows, and blankets.
Fashion and interior design come together with cozy fabrics, think the same fabric used on slippers and also on pillows. High end brands have always offered stylish loungewear such as pants, tops, slippers, and socks. But now, luxurious brands have crossed over from the runway into the home, with upscale wallpapers, rugs, blankets, and more. Many of these brands will offer collaborations or even custom items.

A Splash of Color
Each year, there is a popular color that hits the runway. The same goes for the interior design industry. Those colors are usually quite similar. For example, chili pepper red was a hit at all of the fashion shows earlier this year. And the shade magenta was the top paint color for 2023.
As we mentioned earlier, some trends never go out style. There are certain colors that you will always be able to count on when it comes to interior design. Neutral colors are always safe to use. Depending on what is trending that year, you can add a little bit more color to your fashion and interior design.
Looking for an Interior Design Firm?
If you're looking for an interior designer or interior decorator to add the latest fashion trends to your next interior design project, contact the professionals at Interiors Remembered, Inc. We specialize in interior design and remodeling of homes and properties throughout the Phoenix area. Contact our Interior Design Firm at (480) 921-4224 for a consultation today.